Door Hangers

Local Raleigh, North Carolina Door Hanger Printing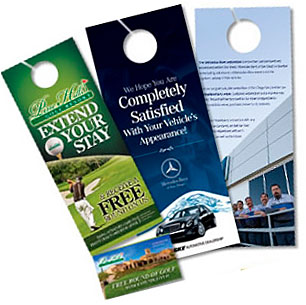 Door hangers are an inexpensive way to reach new customers! More effective than direct mail, finding your door hanger on their front door will really grab the attention of your prospects. When they come home and take it off of their door knob they can't avoid reading what you have to offer!
FREE 1-Day Shipping(see map, above)
Our Raleigh, NC plant is strategically located for rapid shipping of your banners by UPS Ground. Transit time is just 1-day to anwhere in North Carolina (including Charlotte, Raleigh, Greensboro, Durham, Winston-Salem & Fayetteville), as well as anywhere in South Carolina (including Columbia & Charleston, and nearly anywhere in Virginia (including Virginia Beach, Norfolk, Chesapeake, Richmond and Arlington, VA.
---
Fast & Affordable Door Hanger Printing in Raleigh, North Carolina Made Easy!
---