Summit Printing
Place Order Now
Payment Methods
Free Professional File Checking Services
Free Proofs of Your Art Files

Silk Laminated Business Card with Spot UV Ink
Business Card Design Tips


How to Design a Professional Business Card
Your Business Card…
It's usually the first thing exchanged after a handshake.
There's only one chance to give a good first impression to your potential clients. If your business card is plain, dull or unprofessional, it can damage your company's image.
Your business card gives you a chance to position yourself, to represent who you are and what you do on a small piece of paper. It is the most important element of your company's visual identity.
---
A Business card is only seven square inches, making it a challenge to design cards that make a positive impact. Having a unique, well-designed, memorable business card with high impact can set you apart from your competitors! So many small businesses pick a stock design off of a website and throw something together without much thought. You may show up at a trade show with the same template design as several of your competitors!
There are no rules for creative business card design. Thinking out of the box for a unique look can really pay off. Often a potential client may keep your business card simply because it is so cool looking. Custom shapes & die cuts, spot UV, unusual paper, etc. are all possible factors. The crucial part is always an eye-catching design combined with good taste, whether it's graphical, typographical or just simple great ideas.
Business Card Design Tips
Logo

- used consistently, logos on business cards and other marketing materials help to establish a company's identity.

Company Name

- usually the most prominent element of a business card unless it is an organization with a highly recognizable logo.

Tag line

- if the business name is somewhat ambiguous, a tag line or brief description can be useful.

Name of Individual

- the name of the individual is usually only secondary in prominence to the name of the business on a business card.

Physical Address

- some companies, such as contractors, will either not include their address on their company business card or use a P.O. box instead. Not listing a physical address can create suspicion and mistrust, making a potential client think that perhaps they don't want to be found after the bill is paid?

Phone Number(s)

- multiple numbers are typically listed in order of voice, fax, cell. You can omit or rearrange any numbers that are not the preferred method of phone contact for the individual. Don't forget the area code and extensions, if required. If using parentheses for the area code, a professional typographer will ALWAYS include a space after the end parenthesis.

Website & Email Addresses

- if you have one, use it. A company without a website or email address in this age appears small and unprofessional.

Job Title

- not a required element, even an entrepreneur or sole proprietor might include "President" or "CEO" or some other title to give the appearance of a larger organization.

List of Services or Products

- a long list will usually clutter up a standard size business card, but when using two-sided or folded business cards a bullet list of services offered or main product lines could enhance the usefulness of the business card.
Fundamental Graphic Design Principles
Your card should demonstrate that you have good taste, but most business cards are terrible. They are the place where bad design thrives. Some common things to avoid in business card design include:
Don't Print your Own

- just because your office supply store makes those little perforated sheets of paper doesn't mean you should use them

Respect Margin Space

- don't print type too close to the edges.

Don't Scream

- avoid large, bold all-cap type for the address and contact info
Need Graphic Design Help for Your Business Card?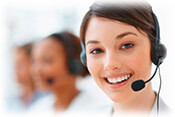 If your company needs help designing a business card, Summit Printing has professional graphic designers on staff that can help you!
If you have any questions about our services, need a price quote, or want to speak with an expert for some questions about printing or graphic design, please don't hesitate to contact us.
We will be happy to assist you!

Our printing company is available 24/7 by phone at 800-594-7733 or email us.
---
Summit Printing also, of course, prints business cards as well. We provide photo-quality cards at a competitive price, click the link below for pricing. With 9 plants in the USA and one in Canada, we can print and ship them to you quickly at a great price!
See Price List