Summit Printing
Place Order Now
Payment Methods
Free Professional File Checking Services
Free Proofs of Your Art Files

Logo Basics


Tips for Creating a Great Logo Design
---
Logo Recognition and Corporate Branding
Fortune 500 companies worldwide know that their Corporate Branding is an essential element to their success. Corporate Branding includes their name, logo, slogan and color schemes.
At the core of their corporate branding is their company logo, which may often be instantly recognized by even a small child.
---
What Makes a Great Logo?


Essential Characteristics of a Great logo
Simplicity


Avoid intricate details. Nearly all companies on the Fortune 500 have a simple logo. Three major marks of superb logo design are that it is memorable, recognizable and Scalable . Too much detail defeats all of these objectives. Test this trait by putting it on a business card. Get rid of everything that is not absolutely necessary.

Avoid "Special Effects"


If you think your logo concept just needs "a little more pizazz" you may want to just reconsider the entire concept.

effects include: gradients, drop shadows, reflections, 3-D bevel embossing and light bursts

.

Descriptive


An excellent logo will often portray attributes of your company in some illustrative manor. Many logo designs include both text and graphics. Most branding efforts need both. Well established brands, like this Yellow Pages logo, can get away with the simple graphic form of their logo without even including the company name.

Looks good in black-and-white


Related to simplicity, a good logo should look good without color. If it doesn't, you broke the first rule. Besides, do you really want to pay for color printing for ALL of your marketing collateral?

Note:

many companies have more than one version of their logo: all black, greyscale, single-color, two-color, reverse, etc.

Correct file type


Although you will want the final logo saved as several file formats, it is HIGHLY recommended that the "actual" logo be created in Adobe Illustrator

(or similar program)

as vector artwork, and NOT created in a raster (pixel) art program

(such as Photoshop)

.

Why vector art? Vector art can be scaled up to any size with no loss in quality. If your logo is created in Photoshop you will run into issues when you want it reproduced for large format printing, such as a banner, yard sign or billboard. Additionally, most corporate gift ad specialties, such as coffee mugs, T-shirts and pens, require vector art to make the product.

Aspect Ratio
Consider the shape of your logo. The most versatile shape is a rectangle that is greater in height than width. For example, a logo that square, round or tall will not fit well on a banner, nor on an ink pen. Many corporate logos include more than one logo layout to maximize layout versatility.
Keeping these guidelines in mind throughout the development process will help your company create a truly professional corporate logo that will last far into the future.
Need a Logo or Other Graphic Design Help?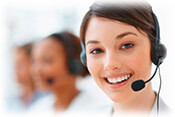 If your company needs help designing a logo or marketing piece, Summit Printing has professional graphic designers on staff that can help you!
If you have any questions about our services, need a price quote, or want to speak with an expert for some questions about printing or graphic design, please don't hesitate to contact us.
We will be happy to assist you!

Our printing company is available 24/7 by phone at 800-594-7733 or email us.