Summit Printing
Place Order Now
Payment Methods
Free Professional File Checking Services
Free Proofs of Your Art Files
Postcards

Postcard Printing & Mailing Services
Custom Printed Postcards

With Optional Mailing Services
Postcards
Printing Only

We print your postcards
& ship them to you



– Current Postage Rates –




(stamped mail)


35¢ per stamp, Standard postcard sizes
55¢ per stamp, Jumbo postcard sizes
Print & Mail
Postcards

We print your postcards, address them for you, and mail them for You



– Current Postage Rates –


25.7¢—27.4¢, Standard Size Postcards
13.8¢—17.3¢, Jumbo size, non-profit
25.6¢—29.1¢, Jumbo, standard mail
38.3¢—42.8¢, Jumbo size, 1st class

EDDM Postcards




Every Door Direct Mail



We print USPS certified EDDM postcards & ship them to you



– Current Postage Rates –


19.1¢

(EDDM Retail Rate)


15.6¢

(EDDM BMEU Rate)



Postage Savings Options Are available!
The US Postal Service offers discounts that can save your company money.
There are TWO different USPS programs that every business needs to be aware of:
1) Presorted Mail: Commercial Postage Rates (also known as "Bulk Mail") are significantly lower than mailing your postcards with stamps. If you mail at least 200 postcards at a time you can save money on postage with bulk mail.

2) Every Door Direct Mail: (EDDM) If you are mailing to specific areas, Every Door Direct Mail may be perfect for your mailing.
With the EDDM program, the USPS provides a HUGE discount on postage, and without the need of a mailing list – the current rate is only 17.7¢.
Postcard Marketing is Effective
Postcards have been established as an effective business advertising method for over a hundred years, and with good reason. They offer many cost and visibility advantages over other direct marketing pieces.
For starters, there is no envelope needed. A postcard doesn't have to be "opened" for them to notice your advertisement – they actually can't help but at least get a glance at your offer.
---
Size Can Make a Difference

Larger "Jumbo" Postcards Stand Out!
Although the larger "jumbo" postcards cost a little more, they really stand out in your prospects' mailbox. This gives them a higher success rate and also provides you more room to explain all of the details of your marketing offer.
In addition to the advantage of your ad standing out, there are also lower postage fees. Standard sized postcards COST LESS to mail than any marketing material stuffed in an envelope (not to mention the cost of the envelopes!).
---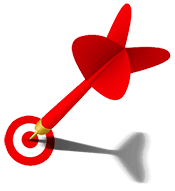 Mailing Lists
Mailing Lists

Target the Best Prospects
Mailing lists are available by zip code, income level, profession, businesses vs. consumers, those that have recently moved, etc. With the right mailing list you can target only those prospects that are likely to be interested in buying your products or services. You can select from one or a combination of criteria to ensure that you only mail postcards to addresses that meet your specific needs.