Summit Printing
Place Order Now
Payment Methods
Free Professional File Checking Services
Free Proofs of Your Art Files

Flyer Pricing
Custom Printed Fliers

Flyers, Color Copies, Leaflets, Handbills and Circulars
Full color fliers are a low cost way to promote your businesses' products and services. A well-designed flyer conveys a professional image of your company. Ideal for trade fairs, inserts for pocket folders, sales presentations, handouts and canvasing, a good flyer is a must for any business.
Needing a Flyer that is Folded?
A Flyer…(as defined on this website)
is a flat , single sheet of paper… not folded.
If you need your piece folded see brochures.
For pricing on multiple sheets of paper
(bound together) see booklets & catalogs.
OPTIONAL MAILING SERVICES
Need your flyers mailed?
We can print, address and mail your flyers too!
Ask us about bulk-rate mailing services, which can also save you money on postage.
Call us for details or contact us for a quote.
STANDARD PAPER OPTIONS
Summit Printing offers many standard paper options to meet your every need. We offer several standard paper thicknesses, types and coatings that are priced on the flyers price list. If you need pricing on flyer specifications not listed feel free to contact us for a custom quote.
flyers on Glossy Text-Weight Paper
Most businesses use a high-gloss paper for their flyers. We have two standard text-weight coated paper options priced on the website: a standard 80# text and a premium 100# text weight. Both come standard with an aqueous coating to help protect the paper finish from fingerprints and scratches. Coated paper has two distinct advantages: (1) a high opacity so 2-sided printing doesn't easily show through, and (2) photos and copy are extra sharp since printing ink doesn't soak into a coated paper.
flyers on Dull Text-Weight Paper
Our 100# premium dull text is for customers who prefer a coated paper that is not glossy. A paper with a matte (or dull, or satin) finish is also a coated sheet of paper, and is also very opaque, but with only a slight gloss. The printing is also sealed with a satin aqueous coating for resistance to smudges, fingerprints and scratches.
flyers, Uncoated Paper

70# Opaque Text
In some cases you may prefer a totally uncoated paper for your flyers, especially if they will be written on, such as a flyer that contains a form that will be filled out by hand. Although a pen can write on a gloss paper with an aqueous coating, pencils do not write well on a coated sheet of paper. A paper with a UV coating can not be written on at all.
Cardstock flyers

100# Gloss Cover flyers
Some clients prefer a thick cardstock paper for their flyers. Our 100# gloss cover is an extra-thick, stiff sheet of premium cardstock. The finish is also sealed with an aqueous coating that adds a glossy sheen and also helps to prevent scratches and minimize fingerprinting.
FREE Shipping from a Plant Near You!
Summit Printing is your best choice for fast, low-cost flyer printing.
With 8 plants in the USA, we cover 90% of the USA with free UPS Ground Shipping within 1-2 business days! Expedited shipping is also available, if needed.
Full Color Flyer Printing Plant Locations
Questions?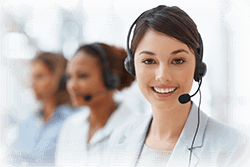 If you have any questions about printing fliers, need a price quote, or want to speak with an expert about any other printing or graphic design topics, please don't hesitate to contact us. We will be happy to assist you!

Our printing company is available 7 days a week, 365 days a year!
Call us at 800-594-7733, or contact us by email.