Summit Printing
Place Order Now
Payment Methods
Free Professional File Checking Services
Free Proofs of Your Art Files

Best Value
14pt Cover with Glossy Aqueous


Fastest Door Hangers

They're unexpected, hanging right on their door knob…
Custom-printed door hangers really grab the attention of your prospects, making them more effective than mailers. When they come home and see your ad hanging on their door knob they can't help but take notice of your offer!
Fast & Affordable Brochure Printing in New Jersey Made Easy!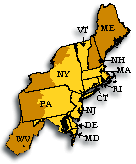 FAST & FREE Shipping to New Jersey and surrounding states
(yellow area on map is next-day ground shipping, brown is 2-day shipping)

Our Miami, Florida plant is strategically located for fast & free shipping of your full color door hangers to:
Jacksonville, Miami, Tampa, St. Petersburg, Orlando, Hialeah, Tallahassee, Fort Lauderdale, Port St. Lucie, Pembroke Pines, Cape Coral, Hollywood, Gainesville, Miramar, Coral Springs, Clearwater, Miami Gardens, Palm Bay, West Palm Beach, Pompano Beach and nearly every City in the state of Florida.
Custom-Printed Door Hangers Get Noticed!
Full Color Door Hangers Starting at $161

No Shipping or Delivery Charges
Our custom printed door hangers are printed in vivid, full color printing with two standard options of sturdy, thick cardstock. You can choose to print on either just the front or double-sided for a slightly higher cost. Custom paper stock and other door hanger sizes are also available by custom quote.
Door hangers are a fast and highly targeted marketing without the cost of postage. Restaurants and service industry businesses use door hangers to attract customers in nearby neighborhoods with great success. Since they're left right at the doorstep of your potential customers for them to easily notice, they have a marketing advantage that other print products cannot provide.
Door Hangers with a Tear-Off Card

Best Value
14pt Cover with Glossy Aqueous


Fastest Door Hangers

Also known as "Rip Cards," your door hangers are available with an optional tear-off perforation to create a 2-in-1 advertising piece!
With a rip-card door hanger your customers can easily tear off a coupon, business card, or loyalty card that is on the bottom of the door hanger.
The perforation on the door hanger is 2" from the bottom. Choose the 3½″ x 11″ size door hanger if you want a detachable standard-sized business card, or the larger 4¼" x 11" door hanger for the larger 4¼" x 2" tear off card.
Door Hanger Hole Options
Summit printing offers three standard die cut options for the "hole" in you door hanger. The most traditional is a simple round hole, but we also offer arch and star die cuts at no extra charge!