Summit Printing
Place Order Now
Payment Methods
Free Professional File Checking Services
Free Proofs of Your Art Files
ONLY


18.6¢




POSTAGE


(or less)
Every Door Direct Mail
Send a Postcard to Everyone in the Neighborhood!

EDDM Postcard Pricing

Three Standard Stock Options

Lightening-Fast EDDM Printing

Need EDDM Postcards Really Fast?
– we have you covered!

At Summit Printing, our standard production is a rapid 2-4 days, with next-day a rush option as well. With Ten plants in the USA, we will get them to you fast too — and shipping is FREE.
We can reach 90% of the businesses in the USA within 1-2 business days with our free UPS Ground shipping.
FREE EDDM Postcard Shipping from a Plant Near You!
Summit Printing is your best choice for fast, low-cost printing and shipping.
With 11 plants in the USA, we cover 90% of the USA with free UPS Ground Shipping within 1-2 business days! Expedited shipping is also available, if needed.
EDDM Postcard Printing Plant Locations
What is Every Door Direct Mail?

Every Door Direct Mail (EDDM) is a special form of bulk-rate mail offered by the US Post Office. The EDDM mailing is the least expensive way to mail to specific areas with direct mail. *
EDDM Retail Postage is Only
18.6¢ per piece
EDDM allows you to send mail to potential customers by neighborhoods of your choice at a much lower rate than postage stamps, and is even less expensive than bulk rate mail.
With the Every Door Direct Mail (EDDM) you send mail to potential customers by neighborhoods. You choose the areas you want to target, and the post office delivers your printed pieces to the addresses in your desired area(s). Like regular bulk rate mail, with EDDM you can choose to mail to just local routes, throughout the state, or even nationwide.
There are two types of EDDM programs offered by the US Post Office:
EDDM Retail (no permit required) — for small businesses
Postage rate is 18.6¢ each, less than the cost of stamps, and even bulk rate postage! Also, here are no mail preparation costs.. Because the cards are delivered to every address on a carrier route, there is no need to purchase a mailing list, print addresses, nor have a permit. EDDM retail customers can drop off their mail at local Post Offices, up to 5,000 mail pieces per day.
EDDM BMEU: (Business Mail Entry Unit) — for large volume mailing
If your company intends to mail out very large volumes of EDDM postcards, EDDM BMEU offers two additional advantages over EDDM retail. Postage rate is only 16.8¢ each, saving an additional 2.1 cents each! For BMEU there is no limit to the number of postcards you can send per day, but it does require your own EDDM permit number.
How Does Every Door Direct Mail Work?
With EDDM you can pinpoint your target market and the USPS delivers them directly to every mailbox on a date that you specify. You can use the EDDM mapping tool to choose the zip code(s) and carrier route that will target your best possible customers. Routes can be selected not only by neighborhoods, but also by average age, income or household size.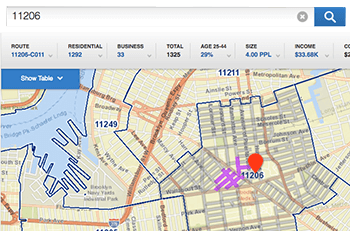 The EDDM Mapping Tool is Easy to Use
Step 1

: You choose neighborhoods

(carrier routes)

that you want to mail with the EDDM Tool.

Step 2

: We print your EDDM Postcards and ship them to you

Step 3

: You drop them at the Post Office, and they deliver them.
Is EDDM Right for Your Business?
EDDM is perfect for many businesses whose prospects are the local residents and businesses in specific area(s). You control which zip codes and carrier routes you want to mail to by using the EDDM Tool at the USPS website.
EDDM Disadvantages
Because EDDM is mailed to everyone in a carrier route, it is not a good choice if your prospects are a highly targeted group. The primary consideration is whether the "average" household (or business) in the area would be interested in your goods and services. EXAMPLE: if your company sells pizza, nearly everyone is a good prospect. however, if the focus of your company is narrow, such as medical supplies to diabetics, you might be better off with targeted direct mail marketing. By obtaining a mailing list of only those households or businesses that fit your criteria, and mailing only those on the list, you will receive a better response ratio.
Targeting Markets with EDDM
By carefully choosing your carrier routes, you can effectively target potential customers even without a mailing list: upper-income neighborhoods, residential areas with lots of children, etc. Many businesses find that the savings offered by EDDM offsets the fact that many who receive their marketing material are not necessarily the most likely buyers of their products or services. The USPS website offers demographic data on their carrier route selection tool.
EDDM Requirements
Since they are not addressed, another advantage of EDDM advertising pieces is that you don't have a large area of your mail pieces that have to be "blank" to make room for the addressing! There are, however, are two "boxes" that must be on your mailing piece to identify them as EDDM pieces.
This indicia must be on your mailing pieces
It is required for EDDM Retail mailing pieces

Download EDDM Retail Indicia
EDDM Indicia Placement Examples
See Also EDDM Guidelines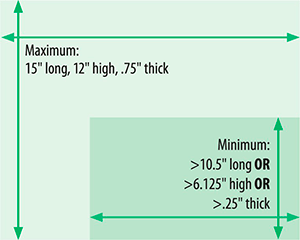 The US Postal Service also has specific postcard requirements for EDDM postcards (both minimum & maximum sizes), as well as minimum/maximum paper thickness. Rest assured, all of the postcards on our EDDM Price List are all compliant with the US Post Office's EDDM Postcard Guidelines.
EDDM vs. Traditional Direct Mail Marketing

Which is the Right Choice for Your Business?
For many businesses, Every Door Direct Mail is the best, most economical form of direct mail marketing available. But, for some businesses, targeting by neighborhoods is not specific enough for their market. For example, if your products or services are only useful to a narrow range of people, such as doctors who may buy medical equipment, or households with a swimming pool. For more information on BOTH options, fee free to call us at 800-594-7733, or see EDDM Advantages for more details.
Postcards with Fridge Magnets

Magna-Peels & Magna-Seals
Kick-up your EDDM Advertising Campaign a knotch
by giving the prospect a fridge magnet!
Magna-Seal and Magna-Peel post cards give you extra impact in your direct mail (or bulk mail) marketing. The most convenient way to get your magnet & message into your customer's hands. As a bonus, studies show that postcards with magnets attached are much more widely read than ordinary direct mailers.
Custom printed postcards with 2 options for adhering a fridge maget and mailng them.
Many postcards size options
Highest quality printing / Made in the USA
Price includes printing in full-color (four color process) on both sides of postcard, addressing, the magnet, and the adhering of magnet to postcard.
Many magent size and thickness options

Reputable Company

with great customer service
— See our customer reviews on Google!