Summit Printing
Place Order Now
Payment Methods
Free Professional File Checking Services
Free Proofs of Your Art Files
Bulk Rate Mail

Postage Rates and Requirements
If you mail least 200 pieces at at a time there is no need to pay the full price of a postage stamp!

Using state-of-the-art equipment & software, we can print, address, process and mail it too! Since we meet all of the US Postal requirements you will receive the best bulk-rate postage discounts available!
USPS Postage Rate Comparison Chart


Presort Automation Postage Options Chart






Postage prices below are the rates charged for bulk rate mail by the US Post Office, which is a range based on your mailing list. Local mailings will be toward the lowest postage in the range, whereas national mailings will be more towards the upper-end of the postage range. Unlike most online printing companies who offer mailing services, Summit Printing does not mark up postage charged by the USPS. There is, however, a small handling fee of 1½¢ per postcard ($5 minimum) to cover our overhead costs.
Postage Class

Postage


(Bulk Rate Presorted Automation Mail)

Size of Postcard
Minimum Qty

First Class



33.0¢ to 35.9¢
SMALL: 3½″ x 5″ to 4¼″ x 6″
Minimum of
500 Mail Pieces
45.5¢ to 51.5¢
JUMBO: 4¼″ x 6″ to 6⅛″ x 11½″


Standard Mail



29.6¢ to 34.9¢
Minimum Size: 3½″ x 5″
Maximum Size: 6⅛″ x 11½″
Minimum of
200 Mail Pieces

Non Profit

15.4¢ to 20.7¢

Mail delivery times are estimates as published by the US Post Office. Actual postage price will be determined after your mailing list has been processed. Postage is payable by check or eCheck only. We recommend mailing all time-sensitive material using the USPS First Class option. The US Post Office does not guarantee on-time mail delivery, thus Summit Printing can not be held liable for late delivery of US Mail.
First Class vs. Standard Mail

Which is the Right Choice for your Needs?
— First Class Mail —
First Class Mail is processed by the USPS as a priority (it goes to the front of the USPS line). It is usually be delivered in 1-2 days locally, and nationally within 3-4 days. If the addressee has moved, your mail will be forwarded for up to 1 year. Undeliverable mail will be returned to you at no charge with the reason for non-delivery.
First Class Presort receives the same first class priority processing, yet offers about a 20% postage savings when you have 500 or more mail pieces. Summit Printing processes your mail so you can receive the lowest postage rate. The addresses are presorted, CASS certified (include the NCOA address update procedure) and barcoded. We also use the new "Intelligent Mail" barcode required for the lowest(Presorted Automation) postage rates.
— Standard Mail —
Standard Mail (also called "bulk mail" and 3rd class mail) offers two major advantages:
It's a less expensive postage rate, and It allows for additional weight – up to 3.3 ounces (vs. 1 oz. for First Class).
The drawback is that Standard Mail is processed by the USPS on a "time available" basis. There is NO guaranteed delivery time, so NEVER use Standard Mail if you have a crucial upcoming event or expiration date. Any time sensitive promotions are recommended to be mailed as First-Class mail.
Local Standard Class Mail is usually delivered in around 3-6 working days. Nationally distributed Standard Mail may take a week or more (sometimes it's faster, but sometimes its slower). Standard mail is neither forwarded nor returned if undeliverable – it merely goes in to the USPS recycling bin. All mail pieces must be identical.
— Non-Profit Mail —
Non-Profit Mail is simply a favored postage rate within Standard Mail. It's processed exactly the same, but gets even better discounts that can be 70% less than the cost of first class. If you are a non-profit organization you can apply to the USPS for these special rates by completing the USPS Nonprofit Standard Mail Application (form 3624).
---
Presort Mail

Basic Presorted Mail vs. Presort Automation
There are two levels of mail discounts available:
(1) Presort Automation (the lowest rate) (2) Basic Presorted Mail (non-automation)
Presorted Automation Rate
Summit Printing performs all of the processing and sorting required by th US Post Office for your mailing to receive the low presort automation rates on your postage, including the new Intelligent Mail™ barcode (IMb) requirement. Besides saving additional money on postage, mail bearing the Intelligent Mail Barcode is also processed more rapidly by the USPS, typically resulting in faster delivery of your bulk mail.

---
Our Mailing Services Includes
Processing your mailing list
C.A.S.S. Certification
De-Duplicating Addresses
Pre-Sorting & USPS documentation
Ink-Jet Setup, Addressing & barcoding
Post Office Delivery
Turnaround times
250 – 25,000: 1-3 business days
30,000 – 60,000: 3-5 business days
70,000 – 100,000: 5-7 business days
Mailing List Format
We accept the following formats: .xls (Excel, recommended), .csv (Comma delimited) or .txt (ASCII text file) Here is a sample of what the mailing list excel sheet should look like:
Above is the preferred format for the USPS Software
If Address 2

(suite number, etc)

is mixed into address 1, format is still usable)
---
Summit Printing is responsible for data processing and printing only, and does not archive, transfer, store, or distribute mailing addresses provided by our customers. Mailing service is only available for orders printed by Summit Printing. Mailing pieces must not have UV coating on the postage side, to allow for addressing. All mailing orders must be paid in full along with a completed PAMF (Proof Authorization Mailing Form) approval before mailing. Postage amount must be paid by check, eCheck, ACH or by wire to avoid a service charge. All other services can be paid by credit card or PayPal. *Quantities exceeding 25,000 may take longer than the typical 1-3 business days to turn around. All remainder/samples cannot be sent out prior to mailing.
Questions?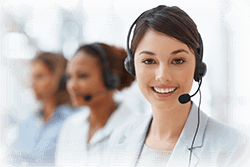 If you have any questions about mailing services, need a price quote, or want to speak with an expert about any other printing or graphic design topics, please don't hesitate to contact us. We will be happy to assist you!

Our printing company is available 7 days a week, 365 days a year!
Call us at 800-594-7733, or contact us by email.