Summit Printing
Place Order Now
Payment Methods
Free Professional File Checking Services
Free Proofs of Your Art Files

Postcard Design Tips
Postcards are an efficient and cost-effective means to lead people to your web site or call your company on the phone.
Eye-catching and inexpensive to print and mail…
— and they don't need to be opened!
No need to design an envelope that will entice your prospects to see what's inside!
Postcard Design 101 Tips


Increasing the Effectiveness of your Postcards
Don't Ignore the Mailing Side - although there are areas the postage side that MUST be "free space" as required by the USPS, don't disregard the mailing side completely. Studies show that most frequently it is the first side of the postcard that the reader sees since the postal carrier typically delivers them address-side up. Give them a reason to turn over the postcard! Use the space as an introduction to the main benefit of your product or service, a teaser of what they should read on the main message side of the postcard.
Grab Attention - since they are not wrapped in an envelope, it is difficult for prospects to avoid reading your postcard. Take advantage of this by catching the reader's attention immediately. Get right to the point with a message that is brief and easy to read.
Use Photographs - show the benefit or the result of using your product or service in a photograph. "A picture IS worth a Thousand Words!" You should appeal to the prospective customer visually (emotionally) as well as in words (intellectually). Only use professional-quality photos. Many great photos are available at various websites at inexpensive prices. We recommend iStockPhoto.com for inexpensive stock photography.
Don't Attempt to Close - use your postcard to provoke sales inquiries, not "close the deal." Because space is so limited on a postcard, you don't have enough room to provide all the information most prospects need to make a buying decision. Briefly present the major benefit(s) of your products or services to generate interest. Includes features such as a special offer that implies a sense of urgency and a "call to action." Use the postcard to motivate readers to get more information to call your company or visit your website, etc.
Define and Target your Audience - the postcard design needs to match not only your products and services, but also the demographics of its recipients. If you do not already possess the mailing list you will be using, there are numerous mailing list services available to help you target the best audience for your postcard mailing campaign. Modern list services have come a long way, with better household and business occupant accuracy as well as demographics such as income, interests and other characteristics to help you maximize your response ratio.
Go First Class - a standard First-Class Mail Postcard (min. 3½″ X 5″ max. 4¼″ X 6″) costs only 34¢ in the US – just a few cents more than bulk rate mail, and it produces a better response ratio.
Avoid Monday Delivery - Monday is usually the biggest mail delivery day of the week, so your postcard will have more competition if delivered on a Monday. It also tends to be a more hectic day for most people, so they will be less relaxed when they look at your postcard.
Need Graphic Design Help for Your Flyer?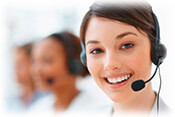 If your company needs help designing a flyer, Summit Printing has professional graphic designers on staff that can help you!
If you have any questions about our services, need a price quote, or want to speak with an expert for some questions about printing or graphic design, please don't hesitate to contact us.
We will be happy to assist you!

Our printing company is available 24/7 by phone at 800-594-7733 or email us.