Summit Printing
Place Order Now
Payment Methods
Free Professional File Checking Services
Free Proofs of Your Art Files

Photoshop Tutorials

5 Cool Techniques!
Photoshop is (and has been) the leading software for professional image editing. Although there are less expensive applications, Photoshop is second to none in it's nearly limitless power to edit images in amazing ways.
In this section of our website, Summit Printing is happy to show you how to perform five amazing Photoshop techniques. Whether you are a graphic designer or a print buyer, there is a good chance you will come across a circumstance to use at least one of these Photoshop tricks to add some extra interest to your designs!
Five Cool Photoshop Tutorials You May Want to Learn
Skin Tone Correction – a step-by-step procedure on how to measure and color-correct the skin tones in a photograph to a normal looking skin color.

Background Blurring – commonly seen in Portrait Photography, how to blur the background in a image to simulate Camera Aperture and Depth-of-Field.

Color Cast Correction – how to color-correct a picture in Photoshop that has a color cast.

Hollywood Eyes – how to enlarge the eyes of a subject in Photoshop to add extra sex-appeal.

Image Reflections – how to create an image reflection in Photoshop for a more dramatic look.

Need Graphic Design Help?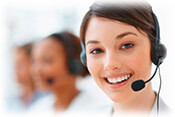 If your company doesn't have a graphic designer, Summit Printing has professional graphic designers on staff that can help you!
If you have any questions about our services, need a price quote, or want to speak with an expert for some questions about printing or graphic design, please don't hesitate to contact us.
We will be happy to assist you!

Our printing company is available 24/7 by phone at 800-594-7733, Live Chat or email.