Summit Printing
Place Order Now
Payment Methods
Free Professional File Checking Services
Free Proofs of Your Art Files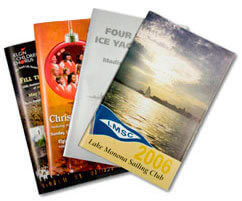 Catalog & Booklet Printing in Mount Pleasant, South Carolina
1-Color, 2- Color & Full Color Books
Summit Printing provides competitive pricing on catalogs and booklets in any quantity, from short-run digital books to medium-run sheet-fed offset printing as well as full web offset for long-run catalog printing. Regardless of your quantity, we can provide your books, catalogs & booklets and ship them to Mount Pleasant at a very reasonable price.

Booklet & Catalog Price List
A saddle-stitched book is the most common method of binding booklets that don't have a lot of pages. They are constructed from folded sheets of paper (known as signatures) with staples in the spine of the booklet where it folds. Saddle-stitching is more economical than perfect binding (soft-cover books), but the maximum number of pages that can be stapled is typically around 96. The exact maximum number of pages will vary depending on thickness of the paper used to make the booklet.
---
Booklet Binding Options
Summit Printing offers competitive pricing on every sort of book binding for your booklets and catalogs. The type most appropriate type of binding for your book depends on the number of pages, paper thickness and other factors, such as whether you need the book to be able to lay flat when opened. Some common book binding methods include:
---
Saddle-Stitched Booklets  ·   Perfect-Bound (Soft-Cover) Binding  ·   Spiral, Wire, Coil & Comb Bound Books 
---
Booklet and Catalog Specifications

How to Spec a Book for a Commercial Printer
It is important to understand how to describe your printing specifications to a commercial printer. Having clear specifications will help us quote your order quickly and accurately, helping to expedite the shipping of your books to Mount Pleasant as fast as possible. Accurate specs will also help if you are receiving quotes from several companies so you can be sure to have an "apples to apples" comparison. This checklist applies to all multi-page bound documents, whether it is a catalogs, booklet, soft-cover book, manual, directory, etc.
---
1. Page Size – what is the height and width of the book when it is finished? (also known as the trim size)

In addition to the trim size, also tell the printer on which side the book is bound (the long or short way), so they understand if you want portrait or landscape when the book is opened, as that could have an effect on the cost of the books.
Though booklets can be about any size you want them, an odd size could cost you more money due to a poor paper yield. If cost is a concern, designing your book's page size to conform to standard page sizes will optimize the production of your book and keep the price as low as possible.
---

2. Page Count – how many pages are in your book?
Although this may sound like a silly question, page count is the most commonly miscommunicated aspect of book specifications.
The confusion stems from counting SHEETS or SIDES. As you flip through a book, note that each sheet has two sides. A commercial printer refers to each SIDE of these sheets as a separate page, so every sheet within the book represents two pages. however, those new to book printing often refer to each sheet within the book as one page.
In the Illustration above you see a 12-page book that is saddle-stitch bound. It is actually constructed of just three sheets of FOLDED paper. Folded sheets of paper are gathered together and stapled on the spine, making each folded sheet 4 pages each. For this reason, a saddle-stitched booklet has a page count that is ALWAYS divisible by 4 (example 8-page, 12-page, 16-page, 20-page, etc).
Even if a sheet in the book is blank on one side (or blank on both sides), a printing company will count it as two pages. For this reason there are always be twice as many pages as there are sheets within a book, regardless of how the books is bound (saddle stitched, perfect bound, coil bound, etc).
Important: The cover of a book is often thicker than the inner pages. For this reason it is important to communicate to the printer whether your page count includes the cover of not. If the pages of the booklet are all the same type and thickness it is known as "self-cover." It is generally better to list the specs for the book's cover separately to avoid confusion.
---
3. Type of Binding – how do you want the pages bound together?
Although there are many ways to gather printed pages together, saddle stitching and perfect binding are the two most common methods of binding a multi-page booklet, catalog or magazine. Saddle Stitching is a binding method in which folded sheets are stapled through the fold (spine). Perfect Binding is the method of book binding used in a soft-cover (paperback) book. The inner pages of the book are covered with a thicker paper (or cardstock) cover, and are held together with glue rather than stitches or staples. For a complete explanation see Book Binding Methods.
---
4. Paper Type and Thickness - also see types of paper
To submit your specifications for a quote the estimator has to know what paper(s) your book is printed on. There are two primary considerations: paper finish and thickness are the considerations.
Coated Paper – most full color booklets and catalogs are printed on a coated sheet of paper (typically glossy). The thickness of the inner pages of a short-run book typically range from a fairly thin 70# coated text to a pretty thick 100# coated text. Sheet-fed and digital printing presses have difficulty printing on coated sheets on coated papers that are any thinner than a 70# coated text. A web press can print on much thinner papers, such as a 40# - 50# coated text. The drawback is that a web press is generally not an economical option unless you are printing a large volume of books, such as 10,000 or more.
Uncoated Paper – books printed in just black ink only are typically printed on uncoated paper (not glossy), unless they contain photographs. The thickness of the inner pages of a short-run book typically range from a 50# to 70# offset (equivalent to a 20# bond, which is typical copy-machine paper, to a 28# bond). Even a black-and-white book, however, is often printed with full color on the cover of the book.
Book Covers – the cover of a book in often printed on a thicker paper than the inner pages, especially if the book contains numerous pages. The thicker the book, the more important that the cover be thicker than the inner pages of the book to protect the book from damage, such as dog-eared pages. A booklet with just a few pages, such as a 12-page booklet, that doesn't have a thicker cover is known as a "self cover" book.
The cover of a book is usually a thicker weight paper stock, or a cardstock. The thinner, inner pages are known as text-weight paper. A typical saddle-stitched book may have an 80# gloss cover, with 80# gloss text on the insides. Don't be confused that both of them are 80#, as a COVER weight is much thicker than a TEXT weight. In fact, books are where the paper terms come from in the first place. A text weight (also know as book weight) are typical thicknesses used on the inner pages of a book. A cover weight is a paper that is typical for printing the cover of a book, so don't be thrown off by the numbers, such as 80# or 100#.
---
5. Ink Color(s) The interior pages of most books are either in full color (process color, or CMYK) or in black-and-white. In either case, the printing estimator needs to know how your book prints as far as ink colors are concerned. The cover of a book is often printed in color even if the interior pages of the book are just black-and-white. The cover often has an extra glossy finish to it, typically a UV coating.
---
6. Quantity – seems obvious, but so many forget to mention how many books they want…
If you are unsure, ask for 3-4 quantities, giving a range between the least and most you would consider buying, regardless of the price break of the higher quantity. Avoid requesting too many quantities for them to quote. Book bids are time consuming to the estimator; asking for too many quantities may cause the estimator to delay your bid, or even ignore it completely.
7. Shipping If you want the cost of shipping your books to South Carolina included in the quote, be sure and supply your destination zip code in Mount Pleasant to the estimator. Shipping to a business can be substantially less money, especially on large order. For skid-shipments via truck line, be sure and let your estimator know if the books are shipping to a business with a dock (or fork lift), or if the truck will need a lift gate to off load your order.
---