Summit Printing
Place Order Now
Payment Methods
Free Professional File Checking Services
Free Proofs of Your Art Files
Car Magnets

Vehicle Signs From Your New Jersey Plant
"Advertise on the Go!"
Car Magnets are a great way to advertise your company. Prominently displayed on your company vehicle, a car magnet becomes a mobile sign promoting your business everywhere you drive!
New Clients when Stopped!
Mobile marketing has an additional advantage you may not have considered. When parked, potential clients may approach you on the spot. Seeing your magnet ad on the vehicle, they may inquiring about your company, or even ask for a quote.
Fast & Affordable Car Magnet Printing in New Jersey Made Easy!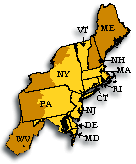 FAST & FREE Shipping to New Jersey and surrounding areas
(yellow area on map is next-day ground shipping, brown is 2-day shipping)
Located in Moonachie, NJ, our Northeastern plant is strategically located for free 1-day UPS ground shipping of your vehicle magnets to:
New Jersey: All cities, including Newark, Jersey City , Paterson & Elizabeth NJ
Massachusetts: Anywhere in MA, including Boston, Worcester and Springfield
Also: All of Vermont, Delaware, Rhode Island, and many major cities in New York and Pennsylvania including New York City , Yonkers, Philadelphia, Allentown, Reading, Scranton, and Bethlehem.