Summit Printing
Place Order Now
Payment Methods
Free Professional File Checking Services
Free Proofs of Your Art Files
ONLY


18.6¢




POSTAGE


(or less)
Every Door Direct Mail in New Jersey Made Easy!
Send a Postcard to Everyone in the Neighborhood

EDDM Postcard Pricing

Three Standard Stock Options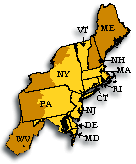 FAST & FREE Shipping to New Jesey and surrounding areas in the Northeast
(yellow area on map is next-day ground shipping, brown is 2-day shipping)

Located in Moonachie, NJ, our Northeastern plant is strategically located for free 1-day UPS ground shipping of your EDDM Postcards to:
New Jersey: All cities, including Newark, Jersey City , Paterson & Elizabeth NJ
Massachusetts: Anywhere in MA, including Boston, Worcester and Springfield
Also: All of Vermont, Delaware, Rhode Island, and many major cities in New York and Pennsylvania including New York City , Yonkers, Philadelphia, Allentown, Reading, Scranton, and Bethlehem.
What is Every Door Direct Mail?

Every Door Direct Mail (EDDM) is a special form of bulk-rate mail offered by the US Post Office. The EDDM mailing is the least expensive way to mail to specific areas with direct mail. *
EDDM Retail Postage is Only
18.6¢ per piece
EDDM allows you to send mail to potential customers by neighborhoods of your choice at a much lower rate than postage stamps, and is even less expensive than bulk rate mail.
With the Every Door Direct Mail (EDDM) you send mail to potential customers by neighborhoods. You choose the areas you want to target, and the post office delivers your printed pieces to the addresses in your desired area(s). Like regular bulk rate mail, with EDDM you can choose to mail to just local routes in New Jersey (or even nationwide).
There are two types of EDDM programs offered by the US Post Office:
EDDM Retail (no permit required) — for small businesses
Postage rate is 18.6¢ each, less than the cost of stamps, and even bulk rate postage! Also, here are no mail preparation costs.. Because the cards are delivered to every address on a carrier route, there is no need to purchase a mailing list, print addresses, nor have a permit. EDDM retail customers can drop off their mail at local Post Offices, up to 5,000 mail pieces per day.
EDDM BMEU: (Business Mail Entry Unit) — for large volume mailing
If your company intends to mail out very large volumes of EDDM postcards, EDDM BMEU offers two additional advantages over EDDM retail. Postage rate is only 16.8¢ each, saving an additional 2.1 cents each! For BMEU there is no limit to the number of postcards you can send per day, but it does require your own EDDM permit number.
Businesses that Benefit from Every Door Direct Mail
EDDM works best for businesses for whom nearly anyone in a geographic area is a reasonably good prospect, from service businesses and restaurants to churches and political mailings. Like regular bulk rate mail, with EDDM you can choose to mail to just local routes in New Jersey – or even nationwide. Some common types of businesses and organizations that typically benefit from using Every Door Direct Mail include:

Restaurants
Dentists
Attorneys
Florists
Dry Cleaners
Political Campaigns
Auto Repair
CPA's & Tax Prep
Gyms & Fitness
Moving & Storage
Salons and Spas
Insurance Agents
Car Washes
home Services Businesses
Doctors, Clinics & Hospitals
Heating & AC / Electricians
Churches
Realtors
In a nutshell, any business whose primary potential customers are "in the neighborhoods surrounding their location" is likely to benefit from the postage savings of Every Door Direct Mail.
How Does Every Door Direct Mail Work?
With EDDM you can pinpoint your target market and the USPS delivers them directly to every mailbox on a date that you specify. You can use the EDDM mapping tool to choose the zip code(s) and carrier route that will target your best possible customers. Routes can be selected not only by neighborhoods, but also by average age, income or household size.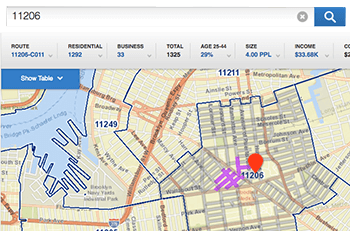 The EDDM Mapping Tool is Easy to Use
Step 1

: You choose neighborhoods

(carrier routes)

that you want to mail with the EDDM Tool.

Step 2

: We print your EDDM Postcards and ship them to you

Step 3

: You drop them at the Post Office, and they deliver them.
With EMMD postcards, your selected routes are not just limited to the the State of New Jersey. You can select carrier routes from anywhere in the USA and just drop them off your local US Post Office.
Is EDDM Right for Your Business?
EDDM is perfect for many businesses whose prospects are the local residents and businesses in specific area(s), such as neighborhoods in or near New Jersey. You control which zip codes and carrier routes you want to mail to by using the EDDM Tool at the USPS website.
EDDM Disadvantages
Because EDDM is mailed to everyone in a carrier route, it is not a good choice if your prospects are a highly targeted group. The primary consideration is whether the "average" household (or business) in the area would be interested in your goods and services. EXAMPLE: if your company sells pizza, nearly everyone is a good prospect. however, if the focus of your company is narrow, such as medical supplies to diabetics, you might be better off with targeted direct mail marketing. By obtaining a mailing list of only those households or businesses that fit your criteria, and mailing only those on the list, you will receive a better response ratio.
Targeting Markets with EDDM
By carefully choosing your carrier routes, you can effectively target potential customers even without a mailing list: upper-income neighborhoods, residential areas with lots of children, etc. Many businesses find that the savings offered by EDDM offsets the fact that many who receive their marketing material are not necessarily the most likely buyers of their products or services. The USPS website offers demographic data on their carrier route selection tool.
EDDM Requirements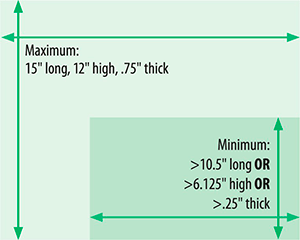 The USPS does have certain requirements for EDDM Postcard Mailings to receive the postage discounts. They include postcard minimum/maximum sizes, paper weight, and also the indicia placement. For more details see EDDM Requirements
Questions?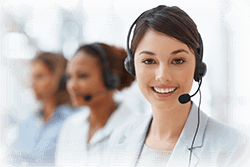 If you have any questions about EDDM postcards, need a price quote, or want to speak with an expert about any other printing or graphic design topics, please don't hesitate to contact us. We will be happy to assist you!

Our printing company is available 7 days a week, 365 days a year!
Call our New Jersey number at 201-479-4040, or contact us by email.