Summit Printing
Place Order Now
Payment Methods
Free Professional File Checking Services
Free Proofs of Your Art Files
Yard Signs | Phoenix, Arizona

Custom Printed Plastic Coroplast Signs
Yard Sign Options and Details
Coroplast Yard Signs
Corrugated Plastic Yard Signs

Polybag Yard Signs


Plastic Bag Yard Signs

Polycoated Card Board


Economy Priced Yard Signs

Custom Printed Yard Signs in Phoenix, AZ Made Easy!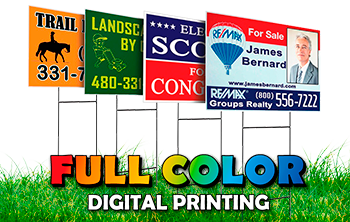 Event Signs · Real Estate Signs · Political Yard Signs · Security & Warning Signs · Service Industry Signs

FREE 1-Day Shipping: — Located in Phoenix, our Arizona plant is strategically located for 1-day yard sign shipping to all major cities in the state, including Phoenix, Tucson, Mesa, Chandler, Glendale, Scottsdale, Gilbert, Tempe, Peoria, Surprise, Yuma, Avondale, Flagstaff, Goodyear and Lake Havasu City, AZ, as well as Essex and Yucca Valley CA.
Promote your business or political campaign with custom printed yard signs! Highly visible & inexpensive, signage are the best, most effective form of advertising for your marketing dollar. Lawn signs are an inexpensive way to promote special events, political candidates, businesses or spread the message about causes. Lawn signs are a great way to quickly advertise to a lot of people. available in 1 or 2-sided, plastic yard signs can be used indoors or outdoors.

For Outdoor Use, yard signs are usually displayed with H-stakes
For Indoor Use they are often hung in the air from grommets.
Super-Fast, Full Color Digital Signs
Shipped from Your Local Phoenix, AZ Plant | Serving all 50 States
Advantages of Digitally Printed Yard Signs
Full color digital yard signs have several advantages over the traditional silk-screen printed plastic signs. Production Time is FASTER, often shipping within 2 days without a rush fee. Digitally printed signs have no setup charges, and there is no extra charge for having more than one color in your signs… you can use unlimited color (even photos)!
Another advantage of digitally printed yard signs is that you can print all the way to the edges of your yard sign at no additional cost! (silk screen signs have to have a 1 inch space around all 4 sides)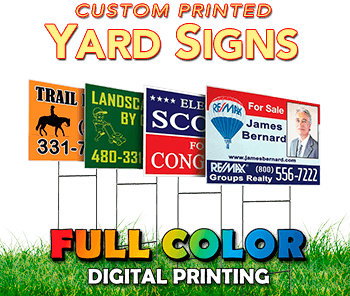 Digital Yard Signs have full color printing at very low prices!

For customers who want 250 or Fewer Yard Signs, these Full Color Digital Yard Signs are usually your fastest and least expensive option
even if you are only wanting one-color printing.
Our full-color, digitally printed yard signs are made from durable, corrugated plastic for weather-resistant & long-lasting signs. Printed with high-quality UV inks, your brightly colored signs will stay vivid and withstand rainy and cold weather.

Digital Yard Signs Price List