Summit Printing
Place Order Now
Payment Methods
Free Professional File Checking Services
Free Proofs of Your Art Files
Brochure Printing

Full Color Brochures from our Phoeniz, AZ Plant

Brochures Pricing
A Brochure…
(as defined on this website) is a single sheet of paper
that has been folded (one or more times).
For pricing on brochures made of multiple sheets of paper see booklets & catalogs. For flat brochures (without folding) see flyers or postcards.
A professional brochure is a great marketing tool for your company. Typically used in prospecting to introduce your company to new potential customers, they're also effective to educate your current customers about other products and services that they may be interested in. Use them at trade shows, as presentation folder inserts, counter displays, and as a leave behind for your sales calls.
Fast & Affordable Brochure Printing in Arizona Made Easy!
FAST & FREE Shipping to Phoenix and surrounding areas in Arizona
(yellow area on map is next-day ground shipping, brown is 2-day shipping)

Located in Phoenix, our Arizona plant is strategically located for 1-day brochure shipping to all major cities in the state, including Phoenix, Tucson, Mesa, Chandler, Glendale, Scottsdale, Gilbert, Tempe, Peoria, Surprise, Yuma, Avondale, Flagstaff, Goodyear and Lake Havasu City , AZ, as well as Essex and Yucca Valley CA.
Brochures on this website are defined as a single sheet of paper that has been folded. The most common folds are either a single fold (bi-folded brochures) or folded twice (a trifold brochure). There are, however, many other ways to creatively fold your brochure to best display your design. For a complete list of common folding options see folding methods.
MAILING SERVICES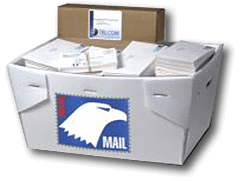 We Can Also Print, Address & Mail For You!
Save Time and Money with Mail Automation